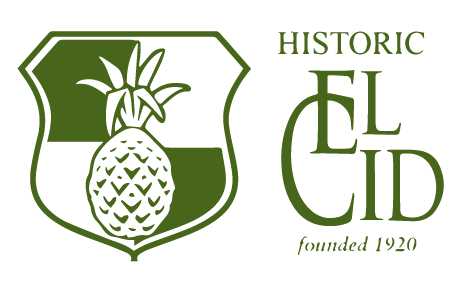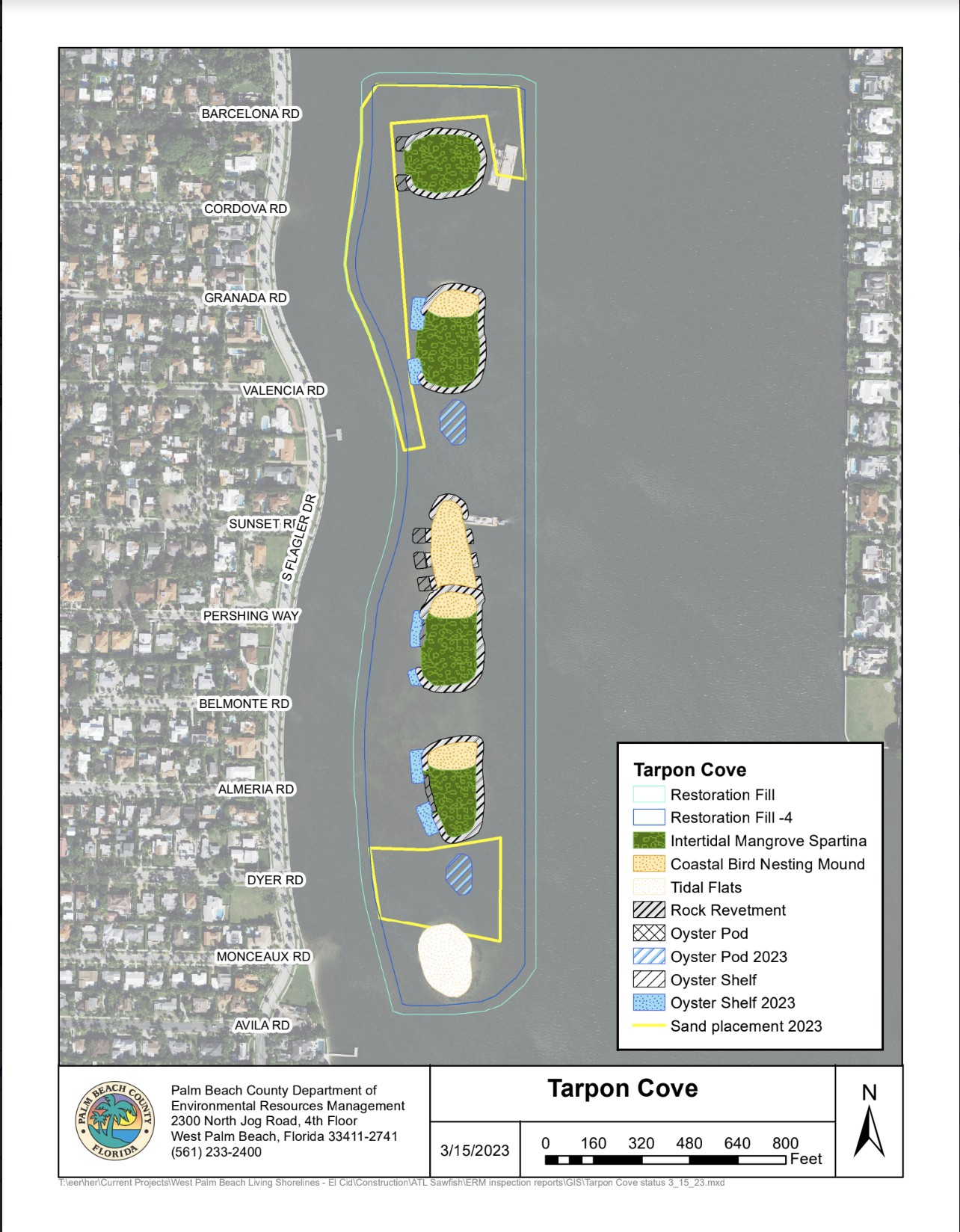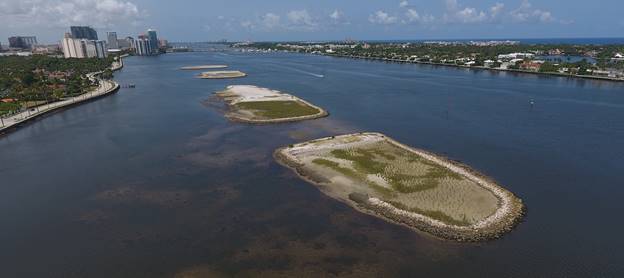 What is Tarpon Cove?

Tarpon Cove is a 46-acre collection of islands built over a former dredge hole located on the west side of the Lake Worth Lagoon adjacent to the El Cid neighborhood in the City of West Palm Beach.  Over the years, muck sediment accumulated in the hole resulting in degraded water quality and depleted estuarine habitat. By filling in the hole and capping the muck with clean sand, islands have been created and contoured at elevations optimal for seagrass, tidal sand flat, mangrove, saltmarsh, and oyster habitats that support fisheries, birds, oysters, manatees, and sea turtles.  In addition, the restoration site even has special non vegetated areas designed to support nesting habitat for threatened coastal shorebirds in Florida.  In 2022, staff observed successful nesting of American Oystercatchers, Least Terns, and Black Skimmers at Tarpon Cove.

Questions? Please reach out to:

Eric Anderson, Senior Environmental Analyst
Palm Beach County
Environmental Resources Mgmt.
2300 North Jog Road, 4th Floor

West Palm Beach, FL 33411-2743

(561) 233-2514
July 2023 Tarpon Cove and Monceaux Park Update:

With the help of many volunteers, Tarpon Cove and Monceaux Park got a little greener this past Spring.

Palm Beach County hosted eight separate events at Tarpon Cove welcoming over 230 volunteers who help planted the two northern islands with over 2,300 red mangroves, donated by MANG, and 8,000 saltmarsh cordgrass, purchased by ERM. Many of the volunteers came from the El Cid Community and partner organizations instrumental to the creation of Tarpon Cove, including the Florida Department of Environmental Protection, Florida Fish and Wildlife Conservation Commission, Florida League of Cities, Inc., and the City of West Palm Beach. Additional volunteers included County Mayor Gregg Weiss, members of the West Palm Beach Fishing Club and Angler Action Foundation, Palm Beach Day Academy, and many residents. From Monceaux Park to the islands, participants were shuttled by boats, provided by Angari Foundation and LagoonKeepers.org.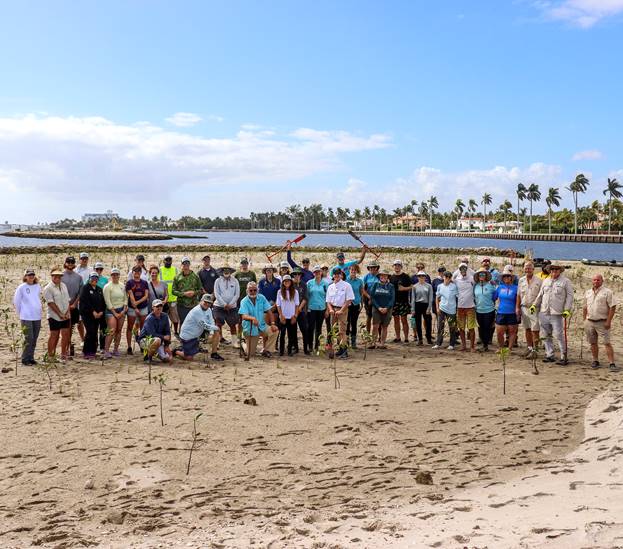 Tarpon Cove Community Planting event

For Earth Day, in April Palm Beach County partnered with The School District of Palm Beach County, more than forty students, teachers, and administrative staff headed to the shoreline to help Palm Beach County plant the two living shorelines along the park's seawall. The group planted 100 red mangroves (donated by MANG) and 700 saltmarsh cordgrass seedlings in planters lined with rocks. The students also got up close and personal with some of the creatures living in the lagoon. Getting wet and muddy with the students were Conniston Middle School Science Teacher Mrs. Elizabeth Eck and Principal Mr. James Thomas. We were also pleased to have Mr. Joseph Sanches, Chief Operating Officer, and Mr. Michael J. Burke, Superintendent, of The School District of Palm Beach County attending the event. The Monceaux Park Living Shoreline is a partnership between ERM and The City of West Palm Beach to bring much-needed wildlife habitat to seawall-lined sections of Lake Worth Lagoon. Some videos from the event: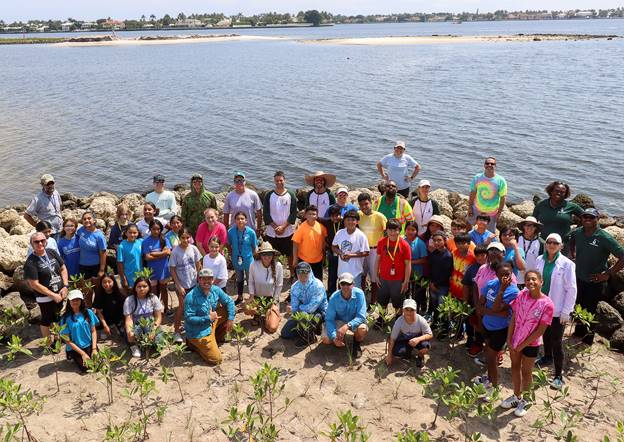 Planting at Monceaux Park

For the fifth year a pair of America Oystercatchers successfully nested, raised, and fledged a chick at Tarpon Cove, in June Florida Fish and Wildlife (FWC) staff banding the chick U23.  In May of this year, biologists from the Florida Department of Environmental Protection, Indian River Lagoon Aquatic Preserve documented a bird fledged from Tarpon Cove in 2020 (W24) that was spotted over 83 miles to the north in Saint Sebastian River.  While Least Terns and Black Skimmer have been occasionally spotted foraging around Tarpon Cove this summer, unfortunately, they did not nest on the islands this year.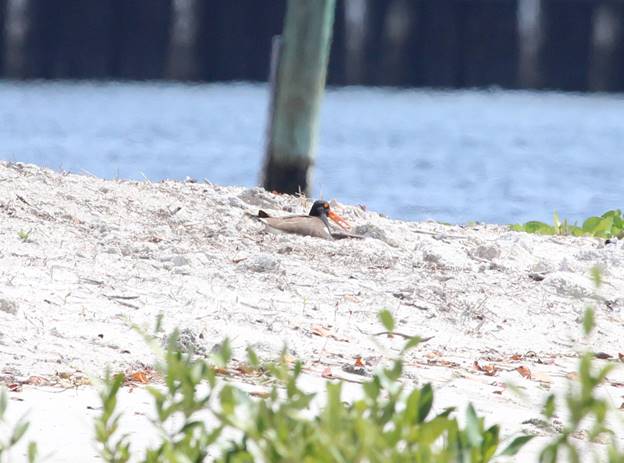 American Oystercatcher nesting at Tarpon Cove

Restoration work at Tarpon Cove continues with the final grading of the 17,500 cubic yards of material acquired from the Sawfish Island project in Jupiter, the placement of this material is estimated to create an additional 14 acres of seagrass habitat surrounding the islands.  The placement of 10,000 tons of limestone is ongoing and will create over 1.8 acres of oyster habitat surrounding the islands.  The reefs at Dyer Road were just completed on July 13th. Before using the sand to create seagrass habitat the remaining sand will be used as a location to stage the rock to complete the remaining oyster reef components of the project.  In addition, six aid-to-navigation signs will be installed, this phase of the project is scheduled to be completed by early Fall.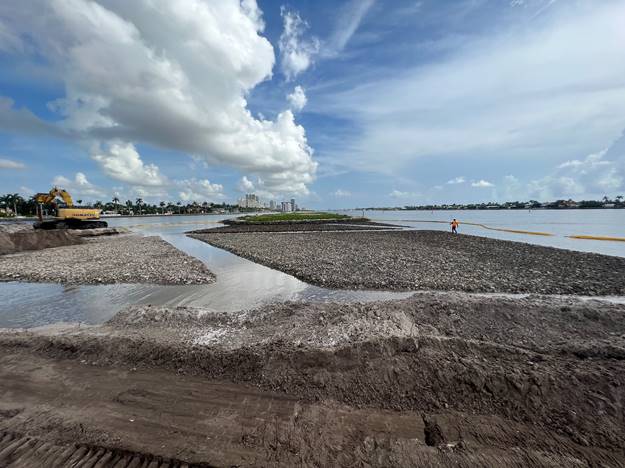 Construction of Oyster Reef and Grading the Sawfish material at Dyer Road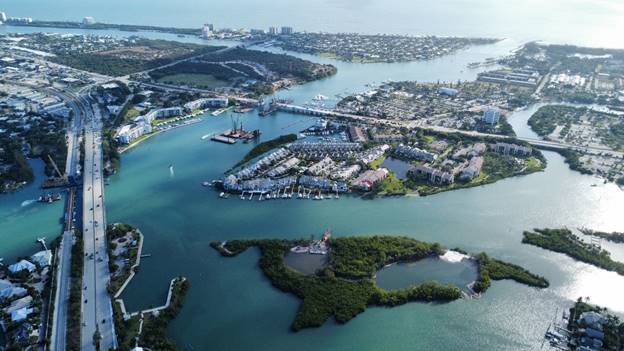 Aerial of Sawfish Island Restoration (photo courtesy of Arbor Tree and Land)

The County is currently working with FWC to help manage the bird islands at Tarpon Cove and other restoration projects throughout the Lagoon.  Palm Beach County is currently developing a schedule to organize volunteer events that would focus on "trash clean-ups" on the island and "weeding for the birds" events removing unwanted vegetation and maintaining open sandy areas for birds to continue to successfully nest, these events are expected to begin in October and go through March.  As soon as the schedule is finalized, the County will be sure to reach out to the El Cid community and advertise all upcoming activities.  At this time, County biologists are monitoring the islands and will determine if additional planting events will be needed in the Fall and Spring as the weather cools.

Visit the County's  Facebook page to see updates on Tarpon Cove, Sawfish, and other County projects.